The challenge of interpreting contemporary music
Mood:
don't ask
Topic: modern music interpreting
Whenever you look at a score like this you will probably know, that you are in a field of arts still to be defined. The analog principle meets the virtual in our times of general revolutionary changes and all the old analog arts will soon disappear. But will they also be replaced? Probably not. But very unimaginable structures of art will be created and the meaning of art will be redefined in general. This is the very urgent adaption to contemporary technical and filosofical knowledge. It will make our lives more complicated, but better. I promise ...
For modern music this means, that the role of the interpreter of a piece of contemporary music has to be completely redefined. No longer the pianist or instrumentalist nor the singer is the interpreter. The full load of interpretation work will in future be done by the programmers and virtual artists who bring those musi c into being. The above mentioned score is a wonderful example, for a new kind of computer program, taht can only be understood by musically educated software engineers ... hehe is that the end of it all? the very apocalypse of music? Yes sure, somehow it is, otherwise see it the buddhist way ... everything fades away , but something new will come out of it and survive.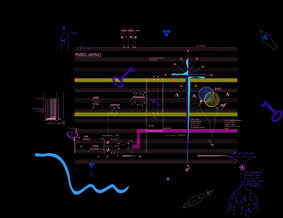 This picture was taken from the opening performance of the "Malchusohr Etüde zum Pararhythmikon" of the Composer Maxim Seloujanov, The multimedia visualizing of the score of that music was part of interpreting by writing a computer program for it, done by agentur fuer unbekannte ereignisse peter heinrichsen

Posted by bloggheinrichsen at 10:01 PM MEST
Updated: Friday, 6 April 2007 8:00 AM MEST